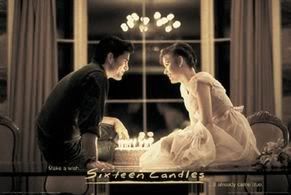 So there are a few more than sixteen candles on my cake today. But so far, so good for turning 28. It feels good....28 could be the new 23...guess we'll have to see.
So as much fun as I'm bound to have today, I'll never top last year. On my birthday, I spent all day wandering Rome, eating Gelato and gazing at fountains. That night we drank too much wine, ate pasta and flirted with waiters.
When I got home the next day, I was greeted with this:
What happens when boys have speedos and too much time on their hands? They devise 'happy brithday' strip shows, that's what! Check out those tan lines!!
So this year, I ate a yummy cookie, am going to do a little shopping, and hopefully relax.
Thanks everyone for the birthday wishes!!